Webinars on Waste and Wastewater Management
The webinars on Waste and Wastewater Management are being organised by ICWMR in collaboration with Uttarakhand Pollution Control Board. The objective of the webinars is to raise awareness amongst stakeholders on the below mentioned topics. The following webinars will be organised from October 2023- January 2024.
Webinar on 'E-waste management: challenges, opportunities, policies, and initiatives' in the month of October 2023
Webinar on 'Management of bio-medical waste for public health' in the month of November 2023
Webinar on 'Wastewater (recycling) as the "new water" for urban development' in the month of December 2023
Webinar on 'Unboxing the potential of battery waste in India' in the month of January 2024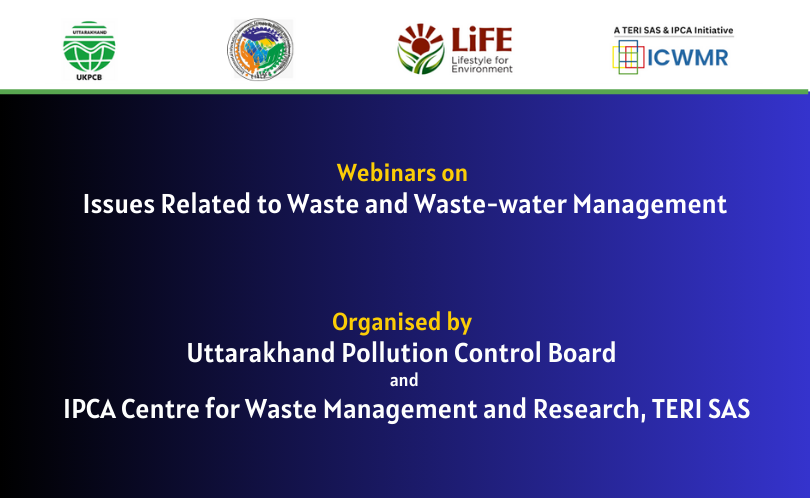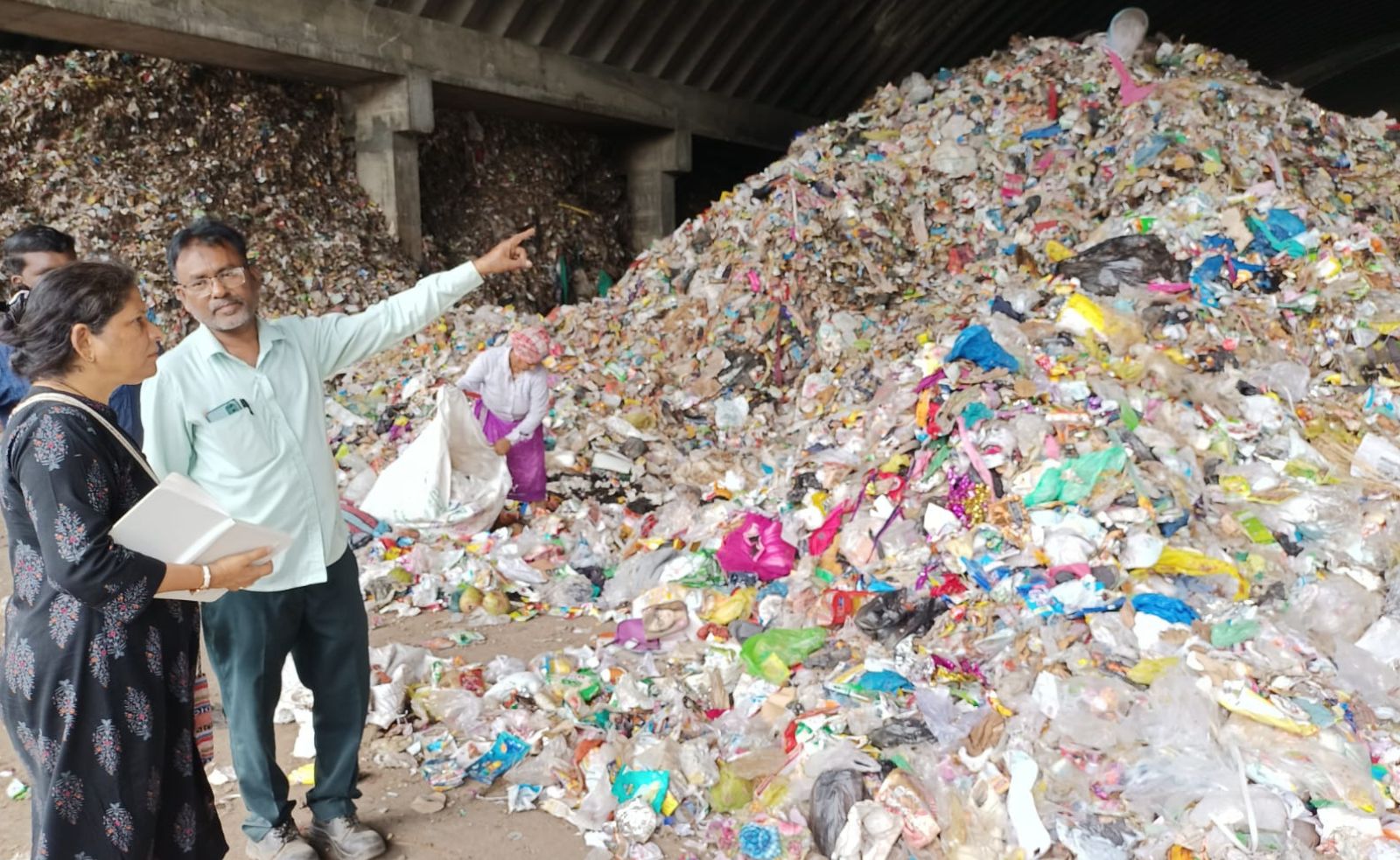 Certificate Course on Entrepreneurship in Solid Waste Management is a flagship course offered by IPCA Centre for Waste Management and Research, TERI School of Advanced Studies. Having successfully trained three consecutive batches, the course is back to engage a new batch of budding entrepreneurs, working professionals and individualswho are passionate to work in the field of waste management.
The course aims to enhance the understanding of participants on waste management, its associated issues, policy frameworks and technology options. It also aims to help participants explore the scope of entrepreneurship in the supply chain of waste management through sessions on business development, project management, financial evaluations and management, marketing and branding, etc. It is a one-of-its-kind programme where subjective knowledge on waste management is blended with practical applications.
The upcoming batch of the course will begin from 7th October2023 and will involve approximately 64 hours of engagement, spread across 8 weeks. Classes will be held online on weekends (Sat-Sun).
Skilling, Learning and Leveraging on Saturday (SkiLLS) Series is a series of training programmes of 1 or 2-day duration in applied fields with the aim to offer training on valuable skills that can be applied in an individual's professional life. The training series is carefully designed to include application-based skills which are relevant to today's changing world that can be transferred through online sessions by experts on Saturday and/or Sunday. In Series 1, five training programmes will be held on weekends started from 19th August 2023.
List of training programmes:
Anaerobic Digestion of Organic Waste: Market Potential, Technology and Implementation
Geospatial Data Handling & Mapping using Google Earth and QGIS
Carbon Pricing, Market and Trading: Concepts, Operational Modalities, Analytical Tools and Techniques for Measurement
Measurement and Data Analysis for Water Resource Planning
Life Cycle Assessment and Estimation of Footprints: A foundation course for beginners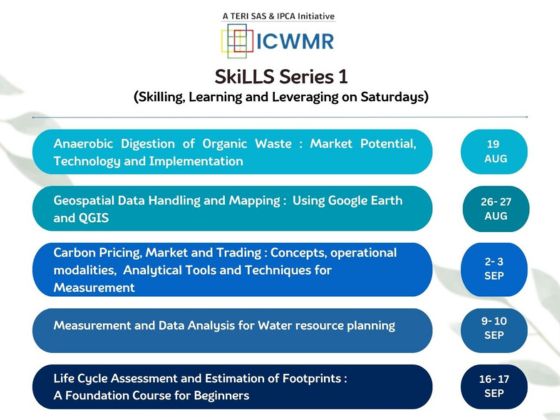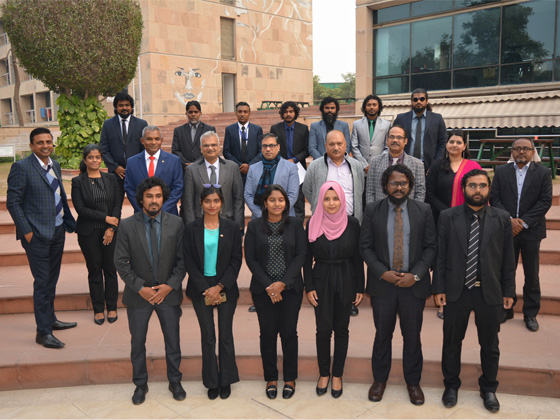 Training programme on Sustainable Waste Management for WAMCO, Maldives
A 5-day training programme on 'Sustainable Waste Management' was conducted for officers of Waste Management Corporation (WAMCO), Maldives from 19-23 December 2022. The training programme aimed at enhancing the understanding of the participants on best practices in waste management, exploring various opportunities in the sector, and honing their skills in business development. To facilitate this, the training sessions were conducted by various policy experts, academicians, and experts working extensively in the waste sector. Additionally, the case studies of best practices of India were undertaken along with interaction with industry practitioners and field visits to waste management facilities further helped in a better understanding of the waste flow and its management.
His Excellency Mr. Ibrahim Shaheeb, High Commissioner of the Republic of Maldives graced the occasion as the Chief Guest for the felicitation ceremony.
Certificate course on Entrepreneurship in Solid Waste Management (Batch 1, 2 and 3)
The 8- week certificate course takes budding entrepreneurs to the journey of entrepreneurship where they acquire knowledge of the solid waste management sector- with sessions on solid waste, solid waste management, and policy frameworks. The course helps them to explore opportunities in the sector, develop realistic projects/ business using business design, pitches and proposals, and execute them. Participants are taken for a field visit to a waste management facility to provide an exposure to the supply chain of waste.
We have successfully completed 3 batches of the certificate course. The next batch will start in October 2023. The pan India course attracted participants from Delhi/NCR, Bihar, Tamil Nadu, Uttar Pradesh, Karnataka, Gujarat, Ladakh, West Bengal, Chhattisgarh, Maharashtra, Telangana, Andhra Pradesh, Punjab, Himachal Pradesh and Dubai. The batches were a mix of students, working professionals, and stay at home environment enthusiasts.